Resident Sailfish are all over the Reef line off of Key Biscayne.
With the abundant bait on and right off the reef it is only natural that the predators would be feeding on them. The most prevalent now being the Sailfish and Mahi-Mahi. Although we have been faced with green water, Sailfish and mahi-mahi have been attacking the Ballyhoo and flying fish. The old adage that the best place to fish is where the bait is very applicable this time of year.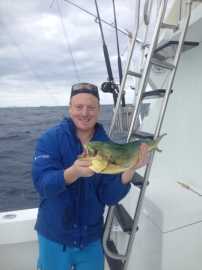 We have been catching multiple sails and seeing more moving quickly after the bait on our charters. We can usually position the boat so that the fishing see our bait or we can pitch a bait out to them.
The dolphin have been moving at lightning speed chasing the Flying fish and this sometimes makes it difficult for them to see our kite baits or to cast a bait to them. Never the less we have been getting quite a few.
The current cold front should bring more sailfish past our shores.