Top Gun Charter Boat Dock Address:
Crandon Marina 4000 Crandon Blvd. Key Biscayne, Fl 33143 Charter Boat Dock 9
From the North:
Take -I95 South all the way to Exit #1 A- Rickenbacker Causeway, Key Biscayne (Exit #1 – Key Biscayne/Rickenbacker Causeway.)
Go through the first traffic light and follow the road as it curves to the left.
Ahead through two more traffic lights you will see the entrance to the toll booth for Key Biscayne.
Pay toll and follow the Rickenbacker Causeway approximately 3½ miles.
Once you pass the Miami Seaquarium, you will go over a small bridge.
Once you cross over the bridge, make your first right into Crandon Marina.
From the South:
Take US1 North.
When you pass S.W. 16th Avenue, remain in the right lanes.
You will see the Museum of Science on your right, and the left lanes will flow onto I-95 North. STAY RIGHT – DO NOT GET ON I-95.
Stay to the right and follow the road as it curves around to the right.
Ahead you will see the entrance to the toll booth for Key Biscayne.
Pay toll and follow the Rickenbacker Causeway approximately 3½ miles.
Once you pass the Miami Seaquarium, you will go over a small bridge.
Once you cross over the bridge, make your first right into Crandon Marina
From the West:
Take 836 East to I-95 South.
Take I-95 South all the way to Exit #1A – Key Biscayne/Rickenbacker Causeway.
Go through the first traffic light and follow the road as it curves to the left.
Through two more traffic lights ahead you will see the entrance to the toll booth for Key Biscayne.
Pay toll and follow the Rickenbacker Causeway approximately 3½ miles. Once you pass the Miami Seaquarium, you will go over a small bridge.
Once you cross over the bridge, make your first right into Crandon Marina
Area Map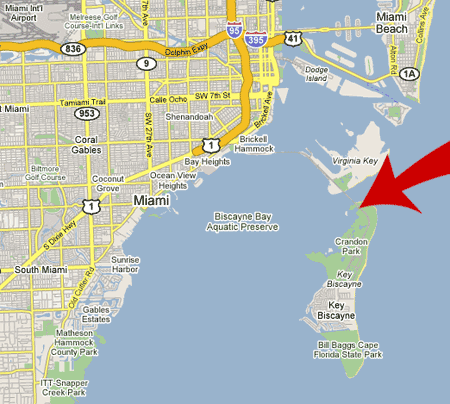 Click to Enlarge