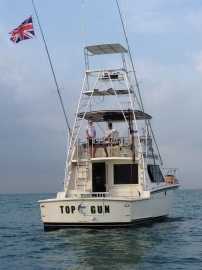 The "Top Gun" is in the Daiwa Captain's Program so we use Daiwa reels exclusively. All our Rods are custom made to our specifications. All the tackle we use are top of the line.
We have the equipment for any fishing technique – including Kite fishing, deep-dropping, and trolling, swordfishing at Night or daytime.
We have two tournament class boats in our charter fleet for all your offshore needs. The "Top Gun" is a 41′ Hatteras Sport fishing Yacht and the "Top Gun II" is a 45' Hatteras Sport fishing Yacht. Both have cold air-conditioned salons with comfortable seating. They feature TV/VCR/DVD and CD player and Radio with Ipod dock. The Salons are a beautiful, comfortable escape from the heat, or a nice place to entertain and relax during and after a great day of fishing! Their galleys have been beautifully remodeled with granite countertops, a full refrigerator, microwave and range.
The head/bathrooms are clean, comfortable, and easily accessible.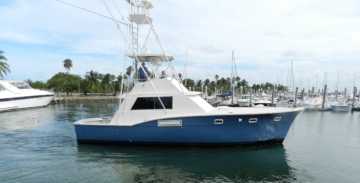 Both boats are equipped with state of the art GPS and fish finder/sounder.
You can enjoy the view and breeze on the flybridge with the Captain, or go below to the cockpit, and be ready to enjoy the excitement and adventure that starts with the beautiful sound of the line being pulled off the reels by a big fish.
Their roomy cockpits are extremely comfortable for fishing and are equipped with a rocket launcher to help you hook the big fish! There are also 2 huge live bait well systems in the cockpit to hold as many live baits as we need to get you your catch!
Both "Top Guns" also have fully equipped Tuna Towers which allow the Captains the opportunity to drive from the tower and help guide you to your next Sailfish or Dolphin.
The "Top Gun" is in the Daiwa Captain's Program so we use the best Daiwa reels. All our Rods are custom made to our specifications. All the tackle we use are top of the line.
We all have the equipment for any fishing technique – including Kite fishing, deep-dropping, and trolling, swordfishing at Night or daytime